Authentic Thai Cuisine at Singtong Neeyom Thai Restaurant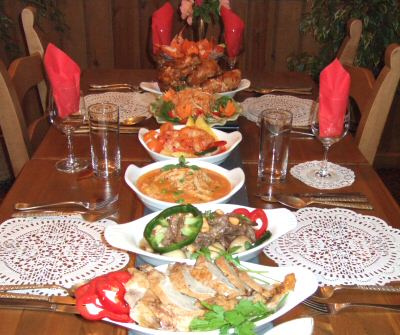 Thai food is like the country of Thailand itself, distinctive and unique. The preparation and cooking of Thai food develops its distinctive taste from its many and varied ingredients such as coriander, lemon grass, lime leaves, chillies, peppers, and coconut milk.
The method of cooking is to cook lightly and quickly so as to enhance the natural flavours and not to lose their freshness and taste.
The special feature of Thai food in the Singtong Neeyom restaurant is that it is served to the table in individual dishes kept warm on candlelit plate warmers in a way so that each person dining at the table is free to choose and enjoy the food from any of the many different dishes ordered by the whole group of persons at that table.
You can also place a "Takeaway" order with Piek and then call in and pick up your Thai meal in its hygienic containers. Order before 6:00pm for collection later in the evening, especially on Friday and Saturday evenings, allowing for preparation time (typically 30 minutes preparation time for a meal for four people).
Click here for our Restaurant Opening Hours.
In 2006 the Singtong Neeyom Thai Restaurant were thrilled to be one of only three restaurants in the whole of Suffolk to win the coveted Thai Select Award for Authetic Thai Cuisine.