The Thai Select Award for Singtong Neeyom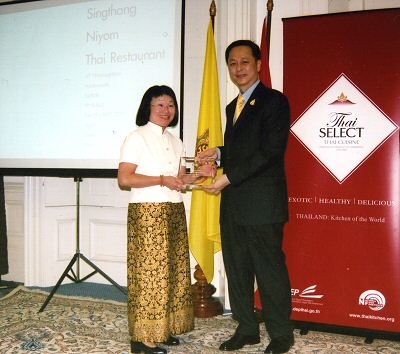 The Thai Select Award is a formal seal of approval for Thai cuisine, and the award is given exclusively by the Thai Government after their representatives have dined at the restaurant unknown to the proprietors of the restaurant.
The intention of the award is to identify those restaurants which offer authentic Thai cuisine in Britain and other countries where the award is promoted.
In its way the Thai Select Award is comparable to the renowned Michelin Star award so long established and respected in France.
The Singtong Neeyom Thai Restaurant in Halesworth was notified by letter on the 1st September 2006 that it had earned the award and on the 15th September 2006 the award was presented to our Thai chef and proprietor Piek at a ceremony in the Thai Embassy, Queens Gate, London, by a Thai government minister who had come especially from Bangkok.
During the presentation it was learned that there are only 105 restaurants in Britain which have earned the award, and of those there are only three in Suffolk.