The Bar and Wines at the Singtong Neeyom Restaurant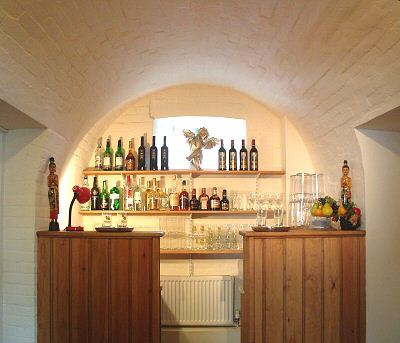 It would be expected that in a Thai restaurant there would be found good beers from Thailand and so the Singtong Neeyom offers both the Singha beer and the Chang beer from Thailand, each beer having its own devoted followers.
It would perhaps not be so readily expected that in a Thai restaurant there would be good wines from Thailand, indeed many people may never have heard of wines from Thailand.
However it is a fact that in various regions of Thailand the climate is ideal for the cultivation of excellent grapes, so the natural consequence of growing grapes is to make them into delicious wines.
Singtong Neeyom Thai restaurant offers diners the choice of very fine wines from Thailand under the name of Monsoon Valley from the Siam Winery Co.Ltd in Bangkok. These wines are available in bottles of red, white, or rosé wines, and are very much recommended at attractive prices.
In addition of course there are available the well known wines from most of the traditional wine producing countries of the world.